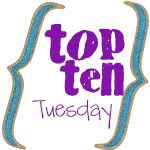 My top ten this week is top ten hymns sung at our house! We are a singing family and folks are usually walking around with some tune coming from their lips. We often joke around about us having 'theme music'.
10. Be still my soul
9. Onward Christian Soldiers
8. Holy, holy, holy
7. They will know we are Christians by our love
6. Amazing Grace
5. Come Christians join to sing
4. Oh the deep, deep
3. Glorious Day
2. And can it be?
1. Battle Hymn of the Republic
Written by,