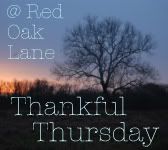 I am thankful for many things this week, even though it may not look like it. This week has been
tense, painful, and humbling
. I am actually thankful for the reminders that God is on His throne and I have many blessings for which to be thankful about :-)
I am thankful for another birthday, I really don't care that I am middle 30's now.
I am thankful for a husband who loves making my birthday special. He loves me. That is awesome!!!
I am thankful for the kids who made gifts for me, cards for me, and raced to be the first one to tell me "happy birthday". That makes my heart pitter pat ;-)
I am thankful that God does not allow me to focus on myself for too long. I can't imagine how 'ugly' I would be if I could truly be self centered, long term. My sisters might remember what that looks like ;-)
I am thankful that my folks work very hard at making me feel loved and special from 5 states away.
I am thankful for sisters who forgave me for being 'me' when we all lived at home, and they are actively involved in my life.
I am thankful for the piggy
birthday card
my dad sent this year. I collect pigs, and having one give my birthday greeting just puts a smile on my face... every time :-)
I am thankful for the time I had last night with my oldest after he confessed something to me. I am thankful for not over reacting and for God giving me the words my son needed to hear, along with "I still love you."